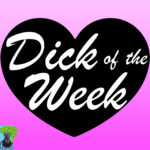 April is one of the Camp NaNoWriMo months (July being the other). And every year when Liz decides she wants to do this, she totally messes it up.
Join Liz and special guest co-host Sarah Estep as we discuss what we were working on for Camp NaNoWriMo and how quickly we realized it wasn't working out so great.
We also talk about our sci-fi romance obsession, Ruby Dixon and one of her new releases, The Half-Orc's Maiden Bride.
You can find Sarah on Twitter and Instagram and all other social media platforms by searching @RemarkablySarah
Dick of the Week is a proud member of the CalamityCast Network.