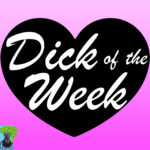 Hello friends and lovers! Stephanie and Liz are back with another episode of Dick of the Week. This week we discussed the 2020 documentary "Naughty Books" directed by Austen Rachlis. It is currently available on Hulu if you want to watch it, also. This documentary follows three successful high heat/erotic romance indie authors. It not only shows the high moments but also the stress and struggled that come with tasting success and trying to keep it.
Books We Talked About:
Dick of the Week is made by Liz Zerkel and Stephanie Kazowz and is a proud member of the CalamityCast Network.