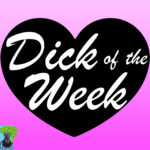 Hello lovers and listeners!
Occasionally, we will have special "book club" type episodes called "DOTW Reads a Book." This is one of those episodes!
In this episode of Dick of the Week, Stephanie and Liz discuss (re gush) all about the historical romance novel "The Prince of Broadway" by Joanne Shupe. While this is the second book of her Uptown Girls series, you can easily read it on its own. We cannot tell you enough how much you should read this book- and well, the entire series. We stan Joanne.
The book takes place in 1891 New York City where a young socialite decides to proposition a mysterious casino owner to teach her everything she needs to know about opening her own casino for ladies only. This book has SPICE and we are HERE FOR IT. Obviously, this episode is full of spoilers about the book so be warned if that's not your thing.
Dick of the week is a proud member of CalamityCast Network.