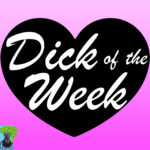 Join Liz and Stephanie as they discuss something incredibly important: Stephanie published her book! YAY! We tried out Tiktok Live for this episode so Stephanie could answer people's questions about her book (Sasha and the Butcher), writing, and indie publishing.
Sasha and the Butcher is a mafia romance novel set in St. Louis and is high heat and contains some violence.
This was our first attempt at recording while on live and it went… okay. We are learning and next time will be better!
Dick of the Week is a proud member of the CalamityCast Network.