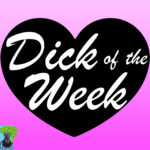 Stephanie and Liz are back with another episode of Dick of the Week. This week we decided to do something a little different. We picked an author we love and have read all of her books and decided to do a deep dive into them. We picked Meika Usher, a very funny contemporary romance author. If you love humor, snark, and sexiness, you will love her. We discuss her four books (The Breakaway series and the How You Get The Girl series) and how the familial relationships in her books are nearly as important as the romantic ones. We look at tropes like best friend's sibling/sibling's best friend and how that trope can be done in really fun and interesting ways.
Check out Meika Usher's website for more information on her books and how to find her on social media.
Books Talked About:
Meika Usher's Breakaway series (Something So Sweet, Goodnight & Go, Ready to Run) and How To Get The Girl series (Make A Move)
Strictly Professional by Kathryn Nolan
Her Halloween Candy (Men At Work series) by Tiffany Reisz
Daring and the Duke by Sarah Maclean
Too Far To Care by Jen Luerssen
Dick of the Week is hosted by Stephanie Kazowz and Liz Zerkel and is a proud member of the CalamityCast Network.