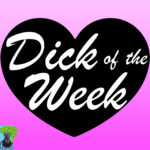 Dick of the Week Episode 45.5–Dickin' Around With Liz: Romance for All
Hello everyone! In this episode of Dick of the Week, Liz is flying solo, so you know what that means! Time for everyone's favorite mini dick, Dickin' Around With Liz! In this episode Liz answers some questions that listeners and fellow podcasters sent her, but the main topic she tackles is do men read romance and what books are good places for men to start with if they want to get into reading romance.
Thank you to Ben Mooney of the Ring My Bell podcast for his question. A special thank you to Christina Mitchell, Meika Usher, and Erin King for their book recommendations for men wanting to get into the romance genre.
Books & Articles Mentioned:
Take a Hint, Dani Brown by Talia Hibbert
Boyfriend Material by Alexis Hall
Real Fake Love by Pippa Grant
Red White & Royal Blue by Casey McQuiston
Agnes and the Hitman by Jennifer Crusie
The Bromance Book Club by Lyssa Kay Adams
Ready to Run by Meika Usher
Men Reading Romance by Mason Sabre
Dick of the Week is a proud member of the CalamityCast Network.