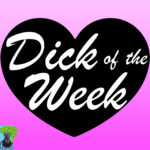 Hey there listeners, Liz is coming at you with another episode of our podcast within a podcast, Dickin' Around With Liz! That's right, it is time for another mini-dick or micropenis.
This week Liz asked social media to give her questions about really anything romance related (or not) for her to answer.
Thank you to everyone who posted a question for her. A special thank you to Ian McGowan who wrote the song that plays during the sex scene question. For those who are unaware, he wrote all the music for season 1 of Love & Lust and that song was a common sexy time song. You can find him on Twitter at Eazy_breezy_mac.
Books Mentioned:
Liar Liar Heart on Fire by Pippa Grant
Porn Star by Laurelin Paige & Sierra Simone
We are proud members of the CalamityCast Network!