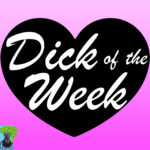 Episode 12: Drunk in Love
In this week's episode we mix things up with our very first guest! Unfortunately Stephanie and Duchess were not available to record, so Liz invited her friend Clare to join her. Clare is both an avid romance reader and an experienced local bartender, with a focus in Whisk(e)y.
The two gals sit back and discuss the use of alcohol in romance novels. Alcohol choices are vastly different depending on the time period and genre of romance. They then discuss how drink choice can be utilized to give greater insight into character traits.
Books and Authors Mentioned:
Steampunk London series by Bec McMaster
Laurell K Hamilton
Sinful Brides series Christi Caldwell (books and audiobooks available on Kindle Unlimited!)
Wild Dancer series Iris Johansen
You can find Clare on Instagram @adram_aday
Thank you for listening to this week's episode! Dick of the Week was created by Stephanie Kazowz, Duchess, and Liz Zerkel. You can find this show and others at calamitycast.com