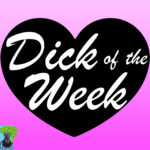 Dick of the Week Episode 31
Hello there listeners!
Today we embark once again on the romance adventure that is My Lady's Choosing. This is part 2 of this particular timeline, so I suggest listening to part 1 first, if you haven't. That being said, Liz does a recap of what happened there, so you should be fine either way.
Stephanie and Liz are joined behind the mic by the ever hilarious, utterly talented, local comedian (amongst other things) Amy Milton!
This time we get to decide if we are staying in London to help good ol Benny with his family drama or if we are saying, see ya later sucker! And jetting (or, well, boating) off to Egypt.
My Lady's Choosing is written by Kitty Curran and Larissa Zageris.
Dick of the Week is a proud member of the CalamityCast Network! Check out other great shows at www.calamitycast.com