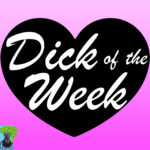 Hello there dear friends! Liz and Stephanie are back with a full length episode of Dick of the Week! Stephanie shares some exciting life news before the two of us jump into a topic we have been wanting to do for awhile now: the man, the myth, the erotica writer- CHUCK TINGLE!
Books Mentioned In This Episode:
Well Met by Jen DeLuca
Small Town Protector series by Piper Sullivan
Dick of the Week is a proud member of the CalamityCast Network. Find more content at Calamitycast.com.