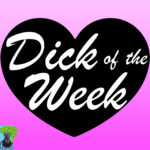 Dick of the Week episode 47: Highway To Heck Part 2
Hello friends and lovers! This week Stephanie and Liz continue on the amazing journey that is Chuck Tingle's choose your own timeline adventure, Highway to Heck! Once again we are joined by special guest, Jordan to help us find our way through the Tingleverse.
Check out this hilarious conclusion to our adventure with High Way To Heck.
Dick of the Week is a proud member of the CalamityCast Network.