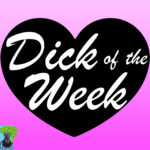 Hello friends and lovers! On this episode of Dick of the Week, Liz and Stephanie have a very special guest with us, Jordan Keesee. Jordan is an Improv Comedian and more importantly, Stephanie's husband.
We decided to try another choose your own adventure style book. This time it is Highway To Heck: A Select Your Own Timeline Adventure by the one and only Chuck Tingle. Stephanie and Liz discuss Chuck on a previous episode of Dick of the Week from this summer, so it seemed fitting to try out his new Select Your Own Timeline book.
This is just part one of the adventure, so we can't wait to see where else the book takes us!
Dick of the Week is a proud member of the CalamityCast Network.