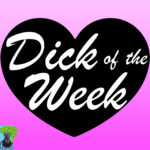 Stephanie is back for the first episode of 2021! She and Liz discuss what's been going on with them recently, their writing plans for the year, and the ever popular Bridgerton. They talk about both the book and Julia Quinn's first book in the series, The Duke and I.
CW/TW: talk about rape and lack of consent regarding that scene in Bridgerton/The Duke and I.
Books Mentioned:
Not the Marrying Kind by Kathryn Nolan
Crazy, Stupid Bromance by Lyssa Kay Adams
The Bridgerton series by Julia Quinn
Dick of the Week is a proud member of the CalamityCast Network. Click the link to find this and other great shows! Support this show and the rest of the network by becoming a patron on our Patreon. Follow us on Twitter, Facebook, and Instagram @lnlsmutcast.