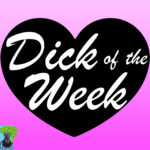 Hello everyone! Stephanie and Liz are back with a new episode of Dick of the Week! This time we discussed the utterly confusing scale of heat levels for romance novels. No heat, sweet, "clean", low heat, medium heat, high heat, spicy, steamy, erotic- what does it all mean?!
We… apparently still have no idea and neither does anyone else. So let's chat about it! We also spent time discussing the new Twitter account HEA_DoesItBang.
Books/authors We Talk About:
Various books by Beverly Jenkins
Dick of the Week is hosted and created by Liz Zerkel and Stephanie Kazowz and is proud to be part of the CalamityCast Network.