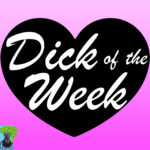 Dick of the Week episode 56 is all about social media! Whether you're a reader or a writer, (or both!) social media plays a rather large role in finding, selling, and talking about romance novels.
Social media, regardless of your age, tends to inform you of certain trends and popular books or authors. Tiktok is a major player right now for making audiences discover books they might not have known before (see our last episode about Ice Planet Barbarians for a good example!). Major bookstores like Barnes and Noble have #booktok table displays for books that gain popularity on that app.
Whether you're an active member in a romance Facebook group, an Indie author trying to sell your books, or just a general book lover scrolling Tiktok, social media is both an amazing recourse and overwhelming AF.
Join Liz and Stephanie while they try to navigate through it all on this week's episode of DICK OF THE WEEK!
Dick of the Week is a proud member of the CalamityCast Network.