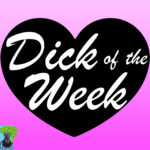 On this week's episode of Dick of the Week, Stephanie and Liz get into the hot and steamy holiday spirit. We read two different spicy santa related Christmas Novellas (both available on Kindle Unlimited) and thoroughly enjoyed them!
Santa's Baby by Chloe Maine is a hot, age-gap, Daddy k!nk romance novella where the heroine is into her dad's best friend.
Santa Claus is Going to Town on Me by Marie Lipscomb and is about a Christmas hating heroine who accidentally meets- and falls for- the real Santa Claus. This book is also extra spicy and for those looking to be on Santa's naught list.
We will see you all in 2022! Enjoy the rest of your year and stay safe.
Dick of the Week is a proud member of the CalamityCast Network.