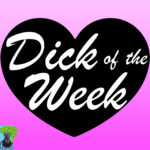 On this episode of Dick of the Week, we discuss the new Hulu Christmas lesbian romantic comedy, Happiest Season. Liz has a special guest host, the lovely NYC comedian Hattie Hayes (find her on twitter here).
This episode includes many spoilers for this movie so if you haven't watched yet and care about spoilers, please listen to this after you watch the movie. Full disclosure, both of us were disappointed with this movie for various reasons, but we did have some things we enjoyed (including the fantastic cast of actors in it). We would love to hear what you have to say so let us know at @lnlsmutcast on twitter.
Books Mentioned In This Episode:
Red, White, & Royal Blue by Casey McQuiston
Boyfriend Material by Alexis Hall
Dick of the Week is a proud member of the CalamityCast Network.