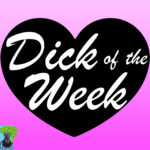 On this episode of Dick of the Week, Liz has a very special guest Morgan Spatola. She is also a podcaster and writer. Together they discuss how National Novel Writing Month is going during the never ending year of 2020. They discuss how this experience is different than 2019, what they need to have a successful writing session, and the importance of a writing community for support.
Morgan isn't writing a romance, per say, this year but did last year so it was interesting to discuss how she is approaching her writing this time around.
You can find Morgan Spatola on Twitter here and learn more about her podcasts, including one that is all about NaNoWriMo called Wet Hot American Moon Juice.