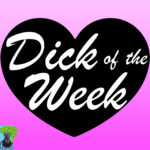 On this episode of Dick of the Week, Liz is joined by romance writer and freelance editor, Joanne Machin. Together they spend the first half of the show discussing books they've read and loved recently and some recent romancelandia DRAMA.
They spend the rest of the episode discussing a Christmas romance novel they both read, Gigolo All The Way by J N Welsh. This was Liz's first Christmas romance that included s e x and Joanne's first Christmas romance ever!
Books Mentioned:
Gigolo All the Way by J N Welsh
Prime Minister by Zoe York
The Kiss Quotient by Helen Hoang
Take A Hint, Dani Brown by Talia Hibert
Your Dad Will Do by Katee Robert
The HuffPost article we discuss can be found here.
Do you want to know more about Joanne Machin? Find her twitter here (@heyjomachin) and her website here!
Dick of the Week is a proud member of the CalamityCast Network.