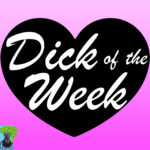 Dick of the Week episode 22
Stephanie, Duchess, and Liz sit down with a copy of "My Lady's Choosing" an interactive romance novel by Kitty Curran and Larissa Zageris.
Will the Duchess of Dick (us) find her happily ever after with the dreamy and steamy Scotsman, the dark and dangerous Craven, the moody and sharp witted Benedict, or say screw it and go travel with her BFF Evangeline? We don't even know the answer to this yet, but we are dying to find out!
Sit back, laugh at Liz's horrible accents, and enjoy part one of our adventure to find love.
Book Mentioned and Read in this Episode:
My Lady's Choosing by Kitty Curran and Larissa Zageris