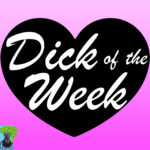 Episode 18: Funny Thing Called Love
Welcome to 2019!
Liz, Duchess, and Stephanie bring in the New Year by talking about one of our favorite things: comedy!
Do you like some jokes and levity with your happily ever afters? We sure do and we sat down to chat why comedy makes romance novels even more enjoyable.
Books/Series in this Episode:
Ready to Run by Meika Usher (on Radish)
Craving the Cowboy by Virna DePaul (on Radish)
The Scandalous Series by R. Linda
Chasing the Dream series by Elizabeth Briggs
My Big Fat Irish Life by Caitlin McKenna
Dick of the Week was created by Stephanie, Duchess, and Liz and is a proud member of the CalamityCast Network, available at www.calamitycast.com and anywhere else you find podcasts.