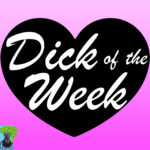 Early May 2022, Stephanie and Liz packed up the car and traveled to a cabin by a lake in Michigan. There we met up with four other romance authors in various stages of their careers for a few days of writing and being unplugged from the rest of the world.
So, of course, we had to take a break from writing (and procrastinating) to record an episode of Dick of the Week with some amazing ladies!
We discuss everything from our current projects, sexy words we like and don't like, the benefits of TikTok, and so much more. We are off the rails in this episode, so buckle up, friends!
Keep in mind, friends! We recorded this with no internet and on new to us equipment, so it was a bit of an experiment. Be kind!
Authors In This Episode (and where to find them):
Dick of the Week is a proud member of the CalamityCast Network. Keep up with us on Twitter and Instagram @LnLSmutcast