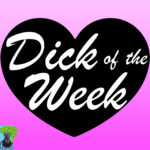 Hey there friends. We know we disappeared for half a year and we are so sorry about that. The 2nd half of 2022 ended up being quite hard and busy. Stephanie is expecting baby number 3 and published book 3. Liz published her first book (A Christmas romance anthology) and has been working on her next books and season 2 of her calamitycast audiodrama Spacemerica. Speaking of, we have very sad news regarding co-founder of CC and audio engineer (among many other roles like co-writer of Spacemerica with Liz) Daniel Williams passed away in August which is a big reason Liz hasn't been podcasting.
We recorded this episode right before Christmas and I totally meant for it to be available a few weeks ago. Here's to 2023 and being more on top of things.
Dick of the Week is a proud member of CalamityCast and is hosted by Liz Zerkel and Stephanie Kazowz.