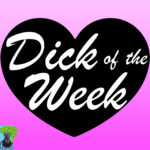 Dick of the Week episode 24: A Choosable Romance Adventure Part 2
Hey there listeners!
We are back to My Lady's Choosing, the interactive romance novel by Kitty Curran and Larissa Zageris! Duchess is taking a bit of a hiatus from the show so with us this week is a fellow CalamityCast writer, Brittany Burke! Brittany is a co-writer of the forthcoming thriller audiodrama, Jane the Ripper.
In part 2 of this adventure we decide whether we want to stick with Mac, the handsome Scot with the heart of gold and a burned down orphanage or travel to Lord Craven, the mysteriously sexy man that everyone seems to fear. Things. Get. Wild.
Dick of the Week was created by Stephanie, Duchess, and Liz and is a proud member of the CalamityCast Network.