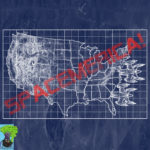 In this episode, Ian and Liz recap our heroes' quest to get their ship back, the haphazard detective work of President Lazier, as well as the zombies vs cowboys dynamic that has plagued Hotlandia for years! Tune in as we talk with Nate Miller, the voice behind Ignatius Babcock, the newest character and member of our ragtag group of adventurers. We also talk about the band abbr., whose song "Virginia" is featured in this episode of Spacemerica!
CREDITS:
The music for Good Morning, Spacemerica! was composed by Ian McGowan. This episode features the song, "Virginia" by abbr., online at soundcloud.com/abbreviatedmusic. Good Morning, Spacemerica! is brought to you by CalamityCast, online at calamitycast.com; produced by Ian McGowan and Daniel Williams, and co-created by Dave Goddard, Ian
McGowan, Daniel Williams, and Liz Zerkel.