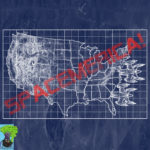 With a hot new set of wheels, the group hits the road. Iggy's taking them to the one person that might know where to find THE CAPTAIN'S LOG. On the way, more stealing! (my favorite kind of -ing!) Also, our group gets acquainted with various Earth fauna. It does not go well.
Meanwhile, on Spacemerica, Mother Mary has plans.
CREDITS:
Spacemerica episode three, Paz Be With You (And Also With You), was written by Ian McGowan and Liz Zerkel; and voiced by Adam Baugher, S. Michael Clericus, Alison Headley, Lisa Kanizay, Ian McGowan, William Mead, Nate Miller, Stephanie Myles, Kat Johnson, Jen Weinman, Daniel Williams, and Liz Zerkel.
The main theme was composed by Ian McGowan; with additional music provided by Ian McGowan and Daniel Williams. This episode features the song, "Say It Don't Spray It" by The Pat Sajak Assassins, online at patsajakassassins.bandcamp.com.
Spacemerica is brought to you by CalamityCast, online at calamitycast.com; produced by Daniel Williams, and co-created by Dave Goddard, Ian McGowan, Daniel Williams, and Liz Zerkel.