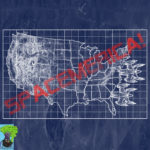 The group meets a man that will change their lives FOREVER! Also, Walking Dead references! Theft! Call backs to old shows! Meanwhile, on Spacemerica, President Richard "Ol' One Dick" Dick Lazier realizes something is afoot, and makes a decision that will change his life FOREVER! Maggie is not amused, and does not have time for any of this BS.
CREDITS:
Spacemerica episode two, Win A Bag O' Love, was written by Dave Goddard;
and voiced by Adam Baugher, S. Michael Clericus, Dave Goddard, Alison Headley, Ian McGowan, William Mead, Nate Miller, Miki Morgan, Stephanie Myles, Kat Johnson, Jen Weinman, Daniel Williams, and Liz Zerkel.
The main theme was composed by Ian McGowan; with additional music provided by Ian McGowan and Daniel Williams. This episode features the song, "Virginia" by Abbreviated, online at soundcloud.com/abbreviatedmusic.
Spacemerica is brought to you by CalamityCast, online at calamitycast.com; produced by Daniel Williams, and co-created by Dave Goddard, Ian McGowan, Daniel Williams, and Liz Zerkel.