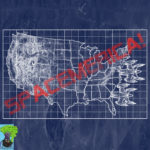 Our story recap begins! In this episode, our hosts Ian and Liz get some background on our characters Chutney, Cookie, Evelyn, Paz, and Wings as they decide to leave Spacemerica in search of adventure! Tune in as we talk with showrunner Daniel Williams, who tells us about the Spacemerican universe, its history, and everything leading up to where our story begins. We also chat with Andrew Garces of 3of5, whose song "To Boldly Stay" is featured in this
episode of Spacemerica!.
CREDITS:
The music for Good Morning, Spacemerica! was composed by Ian McGowan. This episode features the song, "To Boldly Stay" by 3 of 5, online at 3of5.bandcamp.com. Good Morning, Spacemerica! is brought to you by CalamityCast, online at calamitycast.com; produced by Ian McGowan and Daniel Williams, and co-created by Dave Goddard, Ian
McGowan, Daniel Williams, and Liz Zerkel.