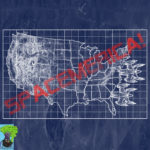 Our story begins! Chutney, Cookie, Evelyn, Paz, and Wings have set before them the greatest decision of their lives – do they leave Spacemerica in search of adventure? (spoilers: Yes, they do. There wouldn't be much of a show if they didn't.) Follow along as a group of friends strikes out from the safe confines of their sheltered life in search of excitement, treasure, and a greater purpose! (more spoilers: It doesn't go well. Does it ever?)
CREDITS:
Spacemerica episode one, Welcome to Erf, was written by Daniel Williams;
and voiced by S. Michael Clericus, Dave Goddard, Alison Headley, Lisa Kanizay, Ian McGowan, William Mead, Stephanie Myles, Kat Johnson, Jen Weinman, Daniel Williams, and Liz Zerkel.
The main theme was composed by Ian McGowan; with additional music provided by Ian McGowan and Daniel Williams. This episode features the song, "To Boldly Stay" by 3 of 5, online at 3of5.bandcamp.com.
Spacemerica is brought to you by CalamityCast, online at calamitycast.com; produced by Daniel Williams, and co-created by Dave Goddard, Ian McGowan, Daniel Williams, and Liz Zerkel.