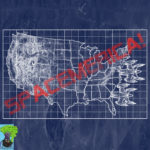 After a tragedy, and then another tragedy, the group is in mourning. But they power through, make plans, and rally!  And hey, Prada's back! Also: THE CANADIAN (doesn't impress Wings in the slightest). Meanwhile, on Spacemerica, Mother Mary is maybe more diabolical than originally thought?
CREDITS:
Spacemerica episode five, The Revengencers, was written by Daniel Williams;
and voiced by Adam Baugher, S. Michael Clericus, Dave Goddard, Alison Headley, Lisa Kanizay, Ian McGowan, William Mead, Nate Miller, Miki Morgan, Stephanie Myles, Kat Johnson, Jen Weinman, Daniel Williams, and Liz Zerkel.
The main theme was composed by Ian McGowan; with additional music provided by Ian McGowan and Daniel Williams. This episode features the song, "Cruel Harvest" by CaveofswordS, online at caveofswords.com.
Spacemerica is brought to you by CalamityCast, online at calamitycast.com; produced by Daniel Williams, and co-created by Dave Goddard, Ian McGowan, Daniel Williams, and Liz Zerkel.