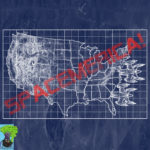 The gang tries to cope with two massive losses, and decides to go on the offensive. In this
episode, we finally meet The Canadian, and learn that Mother Mary is maybe a little more nefarious than we thought. Tune in as Ian and Liz talk with Dave Goddard (The Canadian) and Kat Johnson (Wings), who tells us about their respective characters, as well as that intense interrogation scene. We also touch base with the members of CaveofswordS, whose song "Cruel Harvest" is featured in this episode of Spacemerica!
CREDITS:
The music for Good Morning, Spacemerica! was composed by Ian McGowan. This episode features the song, "Cruel Harvest" by CaveofswordS, online at caveofswords.com. Good Morning, Spacemerica! is brought to you by CalamityCast, online at calamitycast.com; produced by Ian McGowan and Daniel Williams, and co-created by Dave Goddard, Ian McGowan, Daniel Williams, and Liz Zerkel.