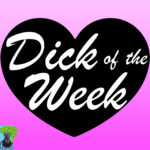 Episode 11.5: Dickin' Around with Liz
Hello there, Listeners! It is I, one of your lovely hosts, Liz! This is just a mini little episode I did by myself because unfortunately due to work and travel issues (Stephanie's job took her to San Diego Comic Con, HOW COOL!!!) and dumb ol' migraines, we were not able to get together to do a real full episode for this week. Instead, I sat by myself in my basement and awkwardly chatted to myself. It's great, I promise.
A big thank you to everyone who came to the first ever CalamityCast Live show that occurred on July 21. Keep an eye on Good, Morning Spacemerica since the live show will be published there. This includes a live reading of Love & Lust!
Books, Author, and Articles Mentioned:
The Obsession by Nora Roberts
Stephanie Kazowz on Wattpad (Start will Celeste. Liz is currently reading Sasha)
Hot Scots series by Donna Alam
Love Machine by Kendall Ryan
Yes, Bigfoot Erotica is Absolutely a Thing article
Join these three lady friends (or, well, in this case, just Liz…) in this wild adventure full of laughs, sassiness, and good times.
Dick of the Week was co-created by Stephanie Kazowz, The Duchess, and Liz Zerkel and is brought to you by CalamityCast, online at calmitycast.com.