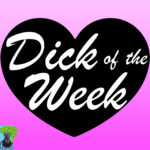 Hello listeners!
This week Stephanie and Liz are joined by Sarah Lashley, a local St. Louis improv comic, for the 3rd and final segment (of this batch at least) of My Lady's Choosing by Kitty Curran and Larissa Zageris.
Things get wild, even beastly one might say, as we continue on our path for love and happiness. Listen now to see if we found true love or if our story ends with a sadder twist.
Dick of the Week was created by Stephanie, Duchess, and Liz and is proud to be part of the CalamityCast Network.