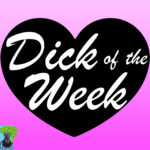 Episode 23: Alpha in the Sheets
Stephanie and Liz are running solo this week, so they decided to put a hold on part 2 of the Choose Your Own Adventure. Instead, they are diving into the world of Book Boyfriends! What makes the male leads in books stand out? Do we like the same traits in books that we like in men in real life? How do you create an alpha character without crossing over into total D-bag territory? These things and more are discussed in this episode!
Books Mentioned:
Before I ever Met you by Karina Halle
Movie Star Memories by RElizabethM (Wattpad)
Dick of the Week was created by Stephanie, Duchess, and Liz, and is a proud member of the CalamityCast Network.