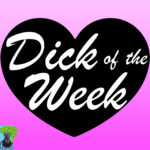 Episode 11: Hey Baby, You DTF?
WE ARE BACK! Thanks for letting us have our mini little break for the 4th.
This week we decided to talk about technology within romance novels. In our audiodrama, Love & Lust, our characters use technology to keep their relationship going due to busy schedules (and to get their motors going, wink!). In lots of modern romance stories, and modern relationships in real life, technology is incredibly important. Despite sometime being awkward.
Books/Authors/Series mentioned in this Episode:
The Masters of Shadowlands series by Cherise Sinclair
Kayneinteruptedme on Wattpad
Let's Get Textual by Teagan Hunter
The Varlet and the Voyeur (Book 4 of the Ruby series) by L. H. Cosway and Penny Reid
Travesty series by Piper Lawson
Rachelle Mills
Join these three lady friends in this wild adventure full of laughs, sassiness, and good times.
Dick of the Week was co-created by Stephanie Kazowz, The Duchess, and Liz Zerkel and is brought to you by CalamityCast, online at calmitycast.com.