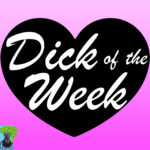 Whew, that title sure is a mouthful! Just like Lord Benedict's…. well. We'll leave the rest of that sentence to your imagination.
Anyway! Today Stephanie and Liz are joined by St. Louis funny lady, Ella Fritts. She is both a stand-up comedian and an improviser. The three of us tackle My Lady's Choosing from the near beginning. We go back to that fateful choice of going with Lord Benny or going with the delicious Scottish Mac.
This is Lord Benedict's time, and we are here for the drama.
My Lady's Choosing is a romance Choosable adventure book by Kitty Curran and Larissa Zageris.
Dick of the Week is a proud member of the CalamityCast Network.