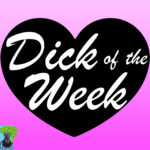 Episode 2: The Faves: Real Dirty, Real Raunchy, Real Good
In the second installment of Dick of the Week, Stephanie, Duchess, and Liz discuss all of their favorites within the Romance genre. Check out some of the best books, authors, and series that they highly recommend!
Just a few of the favorites mentioned:
Tessa Dare

Outlander by Diana Gabaldon

Jane Austen

JD Hawkins

Octavia Butler

Mr. Darcy Takes a Wife by Linda Berdoll

Plus so much more!
Join these three lady friends in this wild adventure full of laughs, sassiness, and good times.
Dick of the Week was co-created by Stephanie Kazowz, The Duchess, and Liz Zerkel and is brought to you by CalamityCast, online at calmitycast.com.