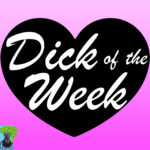 Episode 1: Meet the Smutsluts: Uncut & Uncircumcised
In this first ever episode of Dick of the Week, CalamityCast's sexiest new podcast, Stephanie, The Duchess, and Liz introduce themselves and explain what got them interested in creating a podcast dedicated to the vast and fantastic world of Romance novels. The ladies also explain what first interested them in reading and writing romance novels along with how each of them find and obtain new books.
Join these three lady friends in this wild and new adventure full of laughs, sassiness, and good times.
Dick of the Week was co-created by Stephanie Kazowz, The Duchess, and Liz Zerkel and is brought to you by CalamityCast, online at calmitycast.com.