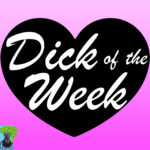 Episode 8: Gimme that Beef!
Join Duchess, Liz, and Stephanie as they tackle a topic they've been excited for since the beginning of this podcast: Erotica and Erotic Romance! Bring on those hot, steamy moments!
Authors and Books mentioned in this week's episode:
In the Line of Duty by Cathryn Fox
Bad Boy Confessions by Cathryn Fox
One Baby Daddy by Meghan Quinn
Gentleman Nine by Penelope Ward
Bossman by Vi Keeland
A Secret Affair by Mary Balogh
Thank you for joining these three lady friends in this wild adventure full of laughs, sassiness, and good times.
Dick of the Week was co-created by Stephanie Kazowz, The Duchess, and Liz Zerkel and is brought to you by CalamityCast, online at calmitycast.com.