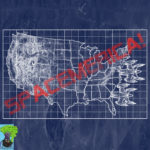 Liz and Ian are joined by Brittany Burke, co-writer (along with Ian) for the upcoming CalamityCast audiodrama thriller "Jane The Ripper", fan-favorite Paz Zarkonen tells us what he's been up to post-Spacemerica, and the always super nice Nate Larson of True Friends stops by! They talk poetry, bizarre antiques (is a fleshlight considered antique?), gator rastlin', oat milk, and 90s slow jamz. And some other stuff, too, including the debut of "In The Night," a new funky tune from True Friends!
CREDITS:
The music for Good Morning, Spacemerica was composed by Ian McGowan. This episode also features "In The Night" by True Friends. Check him out at liketruefriends.bandcamp.com or on Facebook!
Good Morning, Spacemerica is brought to you by CalamityCast, online at​ ​calamitycast.com​; produced by Ian McGowan and Daniel Williams, and co-created by Dave Goddard, Ian McGowan, Daniel Williams, and Liz Zerkel.