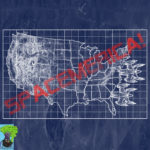 The falling action, the denouement of the first season of Spacemerica! First, Cookie. Then Iggy. Now Wings. The Harbingers of Adventure paid a high price to stop The Canadian from blowing Spacemerica to smithereens. Tune in as Very Special Guest Host Daniel Williams sits down with Ian (Chutney) and Liz (Felix) to discuss their writing process, character growth, and weird things they've eaten, along with why the song "In Your Best" by Scarlet Tanager was chosen for this episode.
CREDITS:
The music for Good Morning, Spacemerica! was composed by Ian McGowan. This episode features the song, "In Your Best" by Scarlet Tanager, online at scarlettanager.bandcamp.com​.
Good Morning, Spacemerica! is brought to you by CalamityCast, online at​ ​calamitycast.com​; produced by Ian McGowan and Daniel Williams, and co-created by Dave Goddard, Ian McGowan, Daniel Williams, and Liz Zerkel.