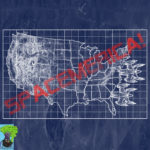 Just when you thought this story couldn't get any sadder, we bring you…Death to Spacemerica! On Earth, this is it: the final countdown, the boss fight, the confrontation with The Big Bad Canadian. Back on Spacemerica, Mother Mary's plans continue to unfold as she gets closer to her goal. Alison Headley (Sister Cynthia / Sin) and Lisa Kanizay (Mother Mary) stop by the studio to chat about dangling in the air, plants, and probably some Spacemerica-related stuff, too. This episode also contains an interview with Matt and Lindsay of Buttercup, whose song "Elevator" is featured in this episode of Spacemerica!.
CREDITS:
The music for Good Morning, Spacemerica! was composed by Ian McGowan. This episode features the song, "Elevator" by Buttercup, online at buttercup1.bandcamp.com​.
Good Morning, Spacemerica! is brought to you by CalamityCast, online at​ ​calamitycast.com​; produced by Ian McGowan and Daniel Williams, and co-created by Dave Goddard, Ian McGowan, Daniel Williams, and Liz Zerkel.