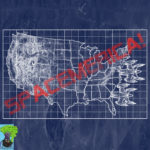 Iggy makes new friends (it's kind of his thing). Things don't go as well as The Historian planned, which is bad news bears for EVERYONE. Cookie uncovers a secret that could change the course of the group's mission. Meanwhile, on Spacemerica, President Detective Lazier accidentally does a good job!
CREDITS:
Spacemerica episode four, Parts Sold Separately; Some Assembly Required, was written by Ian McGowan and Liz Zerkel; and voiced by Adam Baugher, S. Michael Clericus, Dave Goddard, Alison Headley, Ian McGowan, William Mead, Nate Miller, Stephanie Myles, Kat Johnson, Jen Weinman, Daniel Williams, and Liz Zerkel.
The main theme was composed by Ian McGowan; with additional music provided by Ian McGowan and Daniel Williams.
This episode features the song, "Broken Machines Pt. 2" by Solid State Disaster, online at solidstatedisaster.bandcamp.com.
Spacemerica is brought to you by CalamityCast, online at calamitycast.com; produced by Daniel Williams, and co-created by Dave Goddard, Ian McGowan, Daniel Williams, and Liz Zerkel.