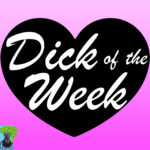 Episode 14: Dear Diary, So There's This Boy…
This week, on Dick of the Week, Stephanie and Liz (sadly no Duchess this time around) dive into the wonderful, adorable, drama-filled world of Young Adult Romance! Wheeee, YA! This is quite the different genre from what we normally discuss.
Stephanie and Liz both happened to watch To All The Boys I Loved Before and Sierra Burgess is a Loser on Netflix and needed to gush at each other about the cuteness, the awkwardness, and the over-all realness that these new YA movies had. Which of course lead to talking about YA books. Sometimes you just need some sweeter, cheesy, teenage angst.
Books and Stuff in this Ep:
To All the Boys I Loved Before (both a book by Jenny Han and a Netflix Original movie)
Sierra Burgess is a Loser (Netflix original movie)
Close by Laurelin Page
Confessions of a Bad Boy Gamer by Cathryn Fox
Temptation by J D Hawkins
The Wrong Bachelor by Alexandra Moody
Straight Up Irish by Magan Vernon
Touchdown by AJ Phoenix
Join these three lady friends in this wild adventure full of laughs, sassiness, and good times.
Dick of the Week was co-created by Stephanie Kazowz, The Duchess, and Liz Zerkel and is brought to you by CalamityCast, online at calmitycast.com.