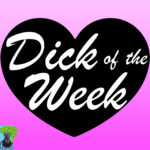 Episode 9: Royally Screwed
Princes and Dukes and Kings, oh YES (Or, you know, Princesses and Duchesses and Queens. We like them all)!
In honor of the Royal Wedding, the ladies of Dick of the Week sit down to chat about royalty in romance novels. Who doesn't dream at one point or another of Prince Charming sweeping them off their feet? But…is it as good as it actually sounds? Take a listen as we discuss the good and the bad of the Royal trope in Romance.
Books and Authors Mentioned:
Sexy Bastard Series by Eve Jagger
The Swedish Prince by Karina Halle
Charmed by the Bartender Piper Rayne
Royal Heartbreakers by Renna Peak and Ember Casey
On Wattpad: @Kanyeinterruptedme
Join these three lady friends in this wild adventure full of laughs, sassiness, and good times.
Dick of the Week was co-created by Stephanie Kazowz, Duchess, and Liz Zerkel and is brought to you by CalamityCast, online at calmitycast.com.