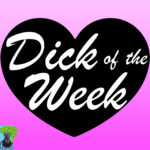 Episode 10: Meet Cute Not Cute Meats
The ladies are so excited to reach TEN episodes! Thank you so much for being with us on this journey.
Speaking of journeys, every love journey has to start somewhere, right? RIGHT! This week, Stephanie, Duchess, and Liz are discussing meet cutes, or the first time the leading folks meet each other. Now, this isn't always love at first sight. In fact, some of us prefer when things go badly when they meet instead of that dreaded instalove (but that's just some of us. You do you, boo).
Books/Authors/Series mentioned in this episode:
Jay Crownover- Marked Men series
Jay Crownover- Getaway series
Play Me by Katie McCoy
The Coincidence of Coconut Cake by Amy E Reichert
Amanda Usen- Sexy Chefs series
Three Blind Dates by Meghan Quinn
Join these three lady friends in this wild adventure full of laughs, sassiness, and good times.
Dick of the Week was co-created by Stephanie Kazowz, Duchess, and Liz Zerkel and is brought to you by CalamityCast, online at Calamitycast.com