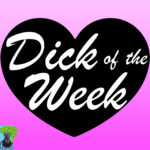 Episode 4: Hot Tasty Treats & Happy Ever Afters
Romance is officially defined as having a central love story and an optimistic and uplifting ending, however the gals at Love & Lust wanted to dive deeper into that definition and question it. Does every single romance novel really need a happy ending? Spoilers: we don't all agree with each other on this topic BUT we have plenty of giggles and fun discussing it.
Join these three lady friends in this wild adventure full of laughs, sassiness, and good times.
Dick of the Week was co-created by Stephanie Kazowz, The Duchess, and Liz Zerkel and is brought to you by CalamityCast, online at calmitycast.com.
Helpful Links & Featured Authors:
https://www.scinders.com/ S Cinders (Wizard of Oz inspired books plus lots of others)
https://www.wattpad.com/user/Whiskeyqueenn/about @whiskeyqueenn on Wattpad and Twitter
https://bookriot.com/2017/04/10/if-it-doesnt-have-an-hea-or-hfn-its-not-romance/ Sarah Nicolas article on HEAs
https://www.goodreads.com/book/show/888115.Who_s_Been_Sleeping_in_Your_Head_ Who's Been Sleeping in Your Head by Brett Kahr