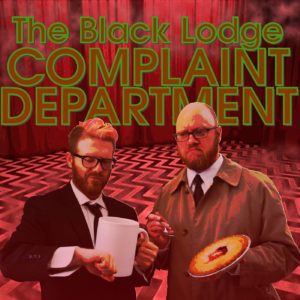 From all of us here at CalamityCast, thank you for listening to the first season of Spacemerica! New episodes will be arriving in the not too distant future…
In the meantime, be sure to check out Love & Lust, a new show from the creative team behind Dick of the Week. This 12 episode smutcast is a radio drama filled to the brim with romance, laughs, and all of those wonderfully awkward moments that come with new relationships.
We're also excited to announce the arrival of The Black Lodge Complaint Department! Adam, a long-time fan of Twin Peaks, has finally convinced Daniel to watch it all. With The Black Lodge Complaint Department, Daniel and Adam will break down every episode of this seminal cult television series from the perspective of a loving fan and a grumpy Twin Peaks newbie. Episode Zero of The Black Lodge Complaint Department will be available in August, and Episode 1 will be available on Monday September 3rd.