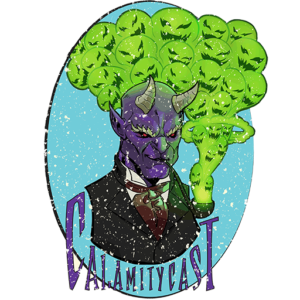 CalamityCast is a St. Louis-based comedy podcast network, the genesis of which was A Beginner's Guide to Interplanetary Destruction, a sci-fi comedy narrative show that ran for 29 episodes from 2014 to 2016.
While brainstorming new show ideas, we decided that, instead of focusing on one project, we wanted to expand, and put out a variety of shows, in different genres, all within the comedy realm (for the time being).
Our goals are pretty simple:
Showcase local podcast creators and expand their audiences
Tell interesting, original, funny stories
Improve the podcasting community in our region
How do we plan on doing this?  We want to put together a group of shows that releases high-quality content at a consistent rate.  We want to build our community, allowing for cross promotional efforts between the CalamityCast branded shows, and others outside of our network.  We hope to better utilize our social media platforms to reach out to our listeners, and interact with them in a meaningful way.
Eventually we'd like to take some of our shows and put them in a live setting!
With the help of patrons, we want to encourage our creators, and drive an increase of our creative output across the board!  In addition to podcasts, we want to make videos, extra written content, and fun merch.
We hope that people with take a listen to what he have to offer, and agree that it's worth supporting.  We have a great time making our shows, and we want to push CalamityCast further than ever!