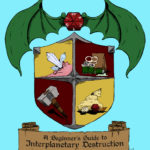 This is it. The end of our story, and possibly the end of the Multiverse! Join us as we say our last goodbyes to the Harbingers of Calamity & Friends. We had some laffs, shed some tears, but now it's time to go face to face against evil incarnate. Who lives, and who dies? Find out on the series finale of A Beginner's Guide to Interplanetary Destruction!
Episode 2.12, "The End of the End" was written, voiced, and recorded by a group of Midwestern nobodies hell bent on providing whoever would listen with the best possible sci-fi/fantasy horror/comedy action/adventure podcast out there. If you're a fan of the show, we can't thank you enough, and we hope you'll stay tuned for what comes next!
Visit harbingersofcalamity.bandcamp.com to download original music from the show. "Graft's Theme" appears courtesy of Bart Graft, online at bartgraft.bandcamp.com. Follow him on Twitter @BartGraft80s.